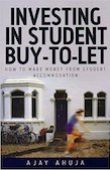 Like any property investment, I always apply a rule of thumb, and here it is no different. Here, I call it the rule of 10.  It's very simple to remember when looking at properties.  Simply calculate the annual rent and multiply it by 10 – this gives you the purchase price.  So if you see a 3 bed 2 reception roomed house and you know the room rate is £60 per week then the calculation is:
4 x £60 x 52 x 10 = £124,800.
So if you see the house advertised for £110,000 then go for it!  If its for £150,000 then forget it.  Speak to letting agents or look in the local press for typical rental values for the area that you are looking at.  This yield is also stated as a payback period – the length of time it would take to own the property if you re-invested all the income earned to replenish your savings.  You would calculate this like:
            1           . = Payback Period.           
Gross Yield/100
This equates to 10 years.  10% is a like-for-like comparison to a bank or building society rate.  So if your bank is offering 4% you know that you can earn 2.5 times as much from investing in property.  But this assumes that you have funded the whole property purchase out of your own funds.  Usually this is not the case.  When you borrow to finance the purchase the returns are significantly higher as highlighted in the previous chapter.
It's surprisingly easy to manage a property outside your area once the property is set up right.  There are many areas that offer you a return of 10% or greater and student properties can do the same.
Sometimes for student rental, the AVERAGE gross yield per year is calculated as:
(42weeks x Room Rate) + (10weeks x (room rate/2)) x number of bedrooms)
Property purchase price
As you can see, the average has been calculated by charging half-rent during the summer period. This is whereby the landlord will charge 50% rent during the summer as to reserve the property for the start of the academic year, more commonly known as a retainer. During this agreed period, you are not to let your property to anyone else as this counts as rent. For more information review the chapter on legal issues.
The VarsityLets scheme offered by Bradford and Bingley as described earlier guarantees full rent for the year, and so in this situation, the yields are increased. How much in demand or desirable your property is will considerably have an effect on this average i.e. if my house has all the latest mod-cons, full speed internet access, large bedrooms, newly fitted bathroom and so on, then I would feel extremely confident in charging full rent 52X weeks of the year and can adjust profit and yield figures by +1 or 2%. If I have a squalid property with a hazard-prone shower unit and rusty old kitchen hobs, then expect it to be more desirable if I charged rent for term times only.
As an arbitrary example, we look at a 3-bedroom house[1] at a purchase price of £145,000 in Bristol - and we can see the differences. If the standard room rate is £52/week, then the figures come out as shown.
| | |
| --- | --- |
| Median Room Rate | £52 |
| Average Yield 1 | 6.7% |
| Estimated Annual Profit 1 | £1,296 |
| Average Yield 2 | 7.5% |
| Estimated Annual Profit 2 | £2,128 |
Where Average Yield 1 is the formula used above and Average Yield 2 is full 52 weeks rent for such a property.
In general, when looking through the university listings, the Yield & profit given are considered as a calculated minimum/average and should be weighted roughly + 1 or 2% if the landlord decides, and have the capability of charging full rent for 52 weeks as demonstrated above.
The example, for Bristol, shows that the average expected yield range is between 6.7% for a three-bedroomed house, but could be as high as 7.5% if 52X weeks full rent is charged. In this example, I personally, would choose not to invest in Bristol.
WHAT ABOUT CAPITAL APPRECIATION, I HEAR YOU SAY!
Capital appreciation is the amount the property rises in value over time.  I never include the gains by capital appreciation in my calculation of yields because it is an unknown figure at the point you make the investment.  If there was any certainty of the capital appreciation of a property then the purchase price of the property would include this gain.  As there is a lot of uncertainty over capital appreciation because of the numerous variables involved it is very difficult to predict when house prices will rise.  And remember the gain is only realised when you sell the property and the difficult thing with any investment is knowing when to get out and sell.
I see capital appreciation as a bonus.  I focus on the investment as it stands.  If it makes money now it will almost certainly make you money in the future.  If the property prices crash – who cares!  You are still making money as the rent rises with inflation and the mortgage payment is still the same.  If property prices increase again – great!  You can realise that equity by remortgaging or by selling and buying further properties!  This way there is no downside risk and only upside potential.
Admittedly there is a lot of money to be made in capital appreciation speculation but capital appreciation speculation should be left to the professional property investors. They have the time to research the market and can stomach the loss if there is a property price crash.
What's so good about Student properties?
Well, the good thing is the market will always be there! Secondly, if you play things right, you can achieve higher yields than if you were to let the house out as per normal. For example, if I were to let out my 3-bedroom terraced house to a couple with two kids in the area of Withington/Didsbury in Manchester then my average gross income would be say £433 per contract month. However, if I were to let it our to students, I could convert the bottom reception/lounge and rent it out as a house with four bedrooms. For an average rent of £50, this means that I would receive £866 per month – basically DOUBLE! This increased yield can be achieved with the commitment and correct attitude required to attract the right student for the right property.
WHAT TO LOOK FOR WHEN VIEWING A PROPERTY
Do not believe the myth that a property is only worth buying if you could see yourself living there.The fact is you aren't going to live there so what is the point of asking yourself if you could live there?You should ask "would students live here?"
Matching the right property with your target group is of crucial importance. As commented on before, the image of three or four longhaired, undernourished and scraggy clothed students, willing to live in a shoebox for three years is a stereotype that has washed away with the last decade.
This does not mean that every student would like a penthouse suite with a Jacuzzi; nor does it mean that the trusted old formula of a 3-bedroom house with a standard sofa, kitchen table etc would not be adequate.
What is important is asking yourself how a potential student buy-to-let purchase can be made as competitive as possible within its local setting. For example, if you know that the latest student developments offered by the University will have full access to hi-speed or broadband Internet in every room, then you must provide at least the same.
The best way to find out the demand and suitability of property is to speak to both the university Students Union and the University Student Housing office. This way, I have found that from one perspective, you'll get ideas through the student representation and from the other, a more commercially focused response and suggestions respectively.
When viewing a property check for:
| | |
| --- | --- |
| Carpets | You have a legal duty to provide floor coverings.If there are no carpets then you will have to pay for new ones. |
| Kitchen | Is the kitchen big enough to accommodate a small dining table? This is attractive if there is only one reception room and it turns the kitchen into a kitchen diner. |
| Smallest Bedroom | If the smallest bedroom is smaller than 6ft 6" in any direction then it is not a bedroom!You need to be able to get a bed in a bedroom hence this room can only be considered as a study or a baby's room.You need to consider this when considering what type of tenant you are looking for – if you are looking for two professional people to share a 2 bed flat then the second bedroom must be bigger than 6ft 6". |
| Bathroom | Is there a fitted shower?A bathroom is a lot more desirable if there is a power shower.If there are two bathrooms then the property is very desirable, even if it is only a shower room. |
| Heating | Is the heating system old?This can be costly to replace.If possible get it checked prior to purchase.It is your legal duty to provide heating and to issue a gas safety record. |
| Electrics | Are the electric sockets old?This will tell you that at some point the whole electric system will require rewiring. |
| Service Charges | If it is a flat you will have to pay service charges.Ask the agent if he has any details of the service charges.Some places have exorbitant service charges that render the whole investment unprofitable.Avoid listed buildings as they have frequent redecoration policies that can be expensive. |
If the property is in a reasonable condition then buy it.  If demand is good there should be no problem letting it out as long as the property is in reasonable condition.
Furnished or not?
The normal procedure for the student is to start searching for next year's room within a few months of starting their course. In the majority of cases, the student devotes a significant portion of a good couple of weeks, maybe months, in finding that right house. In addition to factors such as location, price etc, a key factor in attracting the right student for your property is how you furnish your house.
So the answer to the furnished or not query is almost definitely, a big yes! A more appropriate question would be what are the necessary furnishings required to attract the right student? You must remember that for students, this will probably be their first time searching for a house or room to rent and they will take a tacit interest in the furnishings and fittings upon viewing a house. The key is not to overload the house with junk-shop furnishings and rusty, worn out cookers or freezers. The higher the quality of the property and its entities, the better chance you have of finding responsible students to look after your property.
Is the cooker safe and does it need replacing? What kind of settee can I get that will be reasonably priced but welcoming? What items does the student tenant expect to find in the house? Should I provide a television? These are some key questions that I have asked myself and as there is a requirement to furnish student houses, similar questions should be an integral part of the way you approach the student market. Some key furnishings related to student accommodation include:
Kitchen appliances
In general, the provision of a fridge freezer and cooker are always a basic requirement. Often microwaves, washer machines, dryers and to a lesser extent, dishwashers are provided.

Again, you must remember the necessity of the product to attract the desired student tenant. For example, if you decide to purchase a washer machine, make sure that it is a durable, long-lasting machine intended for heavy usage. Its no good buying one that, despite being very cheap, could cause annoyances and headaches five months down the line.

Microwaves tend to be a good buy as they add to the aesthetic appeal of the kitchen and can cost as little as £30 for a decent one.

Another important yet often neglected aspect is the availability of workspace. You could have a kitchen with a new hob or dishwasher; yet no space to butter a slice of bread. This could get frustrating for the tenant and may ensue the usage of your sparkling white new dishwasher or microwave as a cutting board for his or her Sunday roast!

Sofas/Couches
With student properties, it could be that the front room reception gets converted into an extra bedroom, ensuing that the second reception becomes a living-cum-dining room.

A good sofa; one that looks appealing to the eye and is fairly comfortable will suffice. An overly expensive leather sofa is not a necessity and could run up into the thousands of pounds mark if you do decide to indulge.

Bedding
If it is a small room, then obviously you'll only have space to accommodate a single mattress. But if it is quite a large bedroom, then try and get a double bed if your budget allows. A double bed will always look more appealing than a single bed, regardless of the tenant being a student or not and the cost difference between the two isn't too much.
Television, Sky Digital,
This is where it gets a bit tricky. Is it worth it and can I afford the expenditure? I recall that in my student days (which were a ages ago!), a few of my friends had landlords that provided the set-up for the Sky or cable network and my friends just paid for the monthly billing. I'm a bit wary of installing Sky in student properties, but I know others that have done so and for them, there hasn't been much of a problem to date. You should also consider that you might not always have a student tenant from July to September, so you may have to bear the brunt of the costs.

TV sets are really cheap these days and if you feel that the prospective tenants you are looking for will look after the set, then this will add to the attractiveness of your home.

Internet
This will undeniably make your house appealing to all students whereby computer and internet usage has become a mandatory part of university studying. Should you be able to incorporate a way of accessing the internet from every bedroom in the house, the marketing appeal of this will be a huge pulling factor.
Location
As the market swells with buy-to-let investors, you must choose the best area within your budget to ensure that the profitability of the location is worth spending your money, time and dedication. For example, in my humble opinion - and I am sure others would agree - there are very few spots on London that would generate enough yields to compensate for the huge initial investment for a student buy-to-let.
Just glancing at the yields calculated in the listings, the not-so profitable areas include Bristol, Cambridge, Liverpool and Oxford and so on due to the low yields. Like I said earlier, I see capital appreciation as a bonus. If it makes money now it will almost certainly make you money in the future. In areas like Liverpool, as buoyant as the student market is, the whole city is plagued with buy-to-lets. The fact that rent prices cannot keep up with increased house prices has meant that standstill or general reduction of rents is due to this saturation, producing relatively low yields. Despite this remark, if you can still pick up a bargain in a potential or student area, then go for it. If it means that with your purchase you can offer competitive rental rates and still make a profit, then it's worth a look.
Contrastingly, the University of Brighton and University of Bournemouth have a lack of student housing available and the universities encourages Landlords to register with the university in order to let out to students. The general high house prices will deter those that cannot afford the huge initial outlay, but there are still some good returns on the right property, if it is within your reach.
When considering at the location of the property, it may work to your disadvantage to go for something straight away due to how cheap it may be or how low-priced the properties are in a certain area. If that area is not in demand by the students, then it's not really worth the effort. Studies1 have shown that 20% of the 700,000 student lettings offered by traditional landlord sector in the UK are unfit for letting. You don't want to add your house to be part of that by buying a block of houses in a run-down area or an area that is renowned not to be student friendly.
From my experience, the best areas are immediately next to or near the campus or university lecture halls, followed by houses on or near bus routes leading to the university and town centre. Also these houses tend to have better capital appreciation followed by those that are maybe two to three miles away from campus.
1 A news report on student housing, www.guardian.co.uk
[1] A 3-bedroomed property plus front reception converted to bedroom, equalling 4 bedrooms in total.