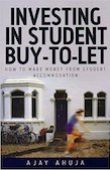 Finding and attracting the right student tenant for your house depends primarily on three factors:
The property
You!
The property
Getting the right tenant will be significantly determined by the type of property you have. A two-bedroom city apartment may do the trick in attracting the affluent students but could, depending on your financial constraints and mobility, have limitations on the competitiveness of the property towards the student market.
What I have found to be most adaptable and suitable is two-bedroom, three-bedroom and four-bedroom houses. In some cases, even a five-bedroom or more house. My reasoning for this is simple – if I can't find students to let it out to, then I could just as likely let it out to a family who are looking for such a property to rent.
The most popular, it would be safe to say, is the three-bedroom terraced house which becomes a four bedroom property once the living room or dining room gets converted into a bedroom.
You
When I used to hear the word 'students', I would automatically convey the image of three chain-smoking, beer-swilling layabouts who would never pay me the due rent! How accurate or not I was in my generalisation is not important. What is important is how I want to run my property and what types of student tenants I want in there.
First and foremost, you have almost definitely bought this book, as you are comfortable with letting your property out to predominantly 18 – 22 year olds.
Secondly, this kind of stereotype described above is in all honesty, a backward approach and such pictures could be painted of different people from different walks of life!!
Lets not ignore the fact that if let out to students, then you must be comfortable with the idea that three, four, five or even twelve or more (!) students in one house will inevitably lead to more wear and tear. You may have to refit the kitchen and bathroom every three to five years, lay new carpets every two to three years and lets not forget that washing machines will be susceptible to heavy usage and will need upgrading sooner than not.
Finally, bearing in mind that there is no longer a one-size-fits-all existence within the student market, you must have a good idea of what type of student you want as your tenant. In general, student rent fluctuations are pretty flat compared to residential and professional lettings and it is fair to assume that the standard prices of rooms vary from £40 to say £80 a week. 
Advertising 
The best way of advertising your property is by using online accommodation websites directed at students; liasing and providing your information through the university housing office; Contacting and advertising your property through the students union (a list of which is provided in the reference section) and through the local newspapers.
Another more creative way of promoting your property is by sticking up information of your property throughout the campus, but check to see if this is permissible with the university authorities first. Maybe even the University Library has a notice board or something similar whereby the students can take your contact details from a handy detailed A4 piece of paper.
Every university has an accommodation office that will help to find suitable, privately rented accommodation as well other useful local information. The best way to find out how things work for each university area and private tenancy is to get in contact with the specific university's accommodation office and get more information. All contact details have been provided for each university.
Some universities offer an affiliated landlord scheme. What this means is that they will let out the your property as a 'university accredited' building – giving the student a sense of security, and for you, a definite plus in obtaining a student tenant – but will also be at a cost or fixed fee to you. It does not necessarily mean that they will collect the rent for you, nor will they show the prospective tenant around the house. For these kind of services, look at 'letting agents' below.
In addition to this, every student union also has a housing officer who is equipped to deal with everything from unhappiness with the room offered to problems with rent and advice on contracts or other legal difficulties with private landlords.
Advertising in the local and university press
This is an effective way of advertising. It is best to advertise in a paper that is delivered free locally or is easily accessible to the student population. The main things you should include are:
Area – You must state clearly where the property is situated. You don't want to spend annoying calls on being asked where the property is exactly and having to regurgitate the same information. In a similar fashion, the student will probably make less effort if he or she doesn't know where the property is.
Furnished – State what furnishings are included and mention important items like washer machine, dishwasher, hi-speed internet access availability etc
Number of Bedrooms – you must put the number of bedrooms the property has as then readers will know if your property can accommodate them.
Price – in any advert you must put the price. I always quote my properties as weekly rent i.e. £80 per week.This way the tenant assumes that the rent is £320 per month (as the tenant thinks there are four weeks in a month when there are actually 4.33 weeks in a month) when in fact it is £346 per calendar month.Your property will appear cheaper than other properties that are quoted per calendar month.If you price your property at £79 rather than £80 the impact is even more significant. You should also make clear as to what is included in your rent. For instance, some landlords include water rates or electricity bills, others don't.
Features – if it's got a new bathroom then say so! Anything that is not standard with a property like a garage, separate dining room, large garden or new carpets then this will attract more interest.
Telephone Number – do not give your mobile number only! You will get fewer calls as everyone knows that a five minute call to a mobile costs a small fortune, especially to the people that you are trying to target. Put a landline as well as a mobile.
To find out about the local newspaper in the area of the property you have bought or thinking about buying visit www.newspapersoc.org.uk.
Student websites
A number of landlords advertise their property through student websites, many of which are available in the listings, relating to that particular town or city. This is great as all students these days access the Internet and their first port of call may be the Internet to browse and see if anything comes up.
In addition to this, the Students Union of each particular university may also be able to give you a comprehensive guide of where to advertise for the university or may even provide information on how you can advertise through them or their website links. A list of student union details has been provided in the reference.
Through a letting agent
This is quite a costly affair to find a tenant. They usually charge one month's rent + VAT. However, they will show prospective tenants round, run credit checks, ask for references, arrange a standing order and do an inventory check on the property. I would recommend this if you work or live far away from the property.
The most prominent and latest initiative taken is by Bradford and Bingley Marketplace who have introduced the VarsityLets scheme. The new scheme is specifically aimed at Buy-to-Lets for the student market.
An informative section on Bradford and Bingley Marketplace VarsityLets has been provided in the rent collections section later in this chapter.
Right student tenant? No student tenants!
Drop out rates
Before you think you've found that perfect house with potential for great returns, a factor that is amazingly overlooked by naïve landlords is considering the drop out rates for the universities. If you have a university where a number of the students don't finish their course, then you may suffer the headaches of being left with an empty property for half of the year. Despite the fact that student rental yields are quite stable and prices do not vary much across the UK, you might find it impossible to find a tenant - With council tax, service charges and maintenance bills, you would end up with a negative return on your investment.
Middlesborough for example, has been in the headlines due to it being a property hotspot. Terraced housing in the centre of town have gained considerable value over the past few years, with buy-to-let investors capitalising on this with view to refurbishment and letting it out to students. On the plus side, Middlesborough has seen accelerated house prices and there is a great number of students there as potential tenants. However, the University is in the process of building new multi-million pound halls of residences to accommodate the projected number of students. Taking this into consideration and accounting for the fact that Teesside University suffers from a 12% dropout rate[1], the shiny prospect of student lets in Middlesborough loses some of its gloss.
Figures show that a considerable number of London universities experience a high drop out rate with the University of North London witnessing 29% of its students dropping out of their course. In contrast, Imperial College has a low drop out rate of 4%. In the North West, 23% did not finish their course at the Bolton Institute of Higher Education. In Wales, the University of Wales Lampeter has a high drop-out of 19% whilst in Scotland, the University of Abertay Dundee sees a 19% drop out rate.
Can't find a tenant!
If things do turn sour and the area you have purchased in does see a significant increase of unforeseen dropouts or other negative factors, then the following suggestions are some ways to tackle this:
Action
Why?
 Reduce the rent
If you're having problems renting it out, then maybe you're asking for too much for the student area. Look at rental prices offered by other student landlords and then review your rental demands.

Think about reducing the rent; or if you are asking for a full years rent, consider only charging a deposit for the summer weeks when the students aren't there.

Promote and advertise your property
If you haven't already done so, consider registering your property with a lettings agent who may have better access to students and will take up a lot of the work for a fee.

Advertise your property through the student newspapers if possible and post your property details around campus if permissible!

Widen the target group

If you are having problems letting it out to students, due to a downturn of student applications/numbers, increased accommodation offered by the University or other related factors, then consider renting it out to professionals, families and other possible tenants[2].
Furnish the property
If you haven't already done this, then maybe a few basic additions will increase the marketability of your property.

Maybe look into installing hi-speed internet access to the property as this is a huge pull to the student market.

Sell the property
This should be a last resort, as any decent property should be let worthy to students. Your property will probably be in demand as it is a student area, so you should find it quite easy to sell.
Void Periods
As we are all probably aware, tenants come in all shapes and sizes regardless of the "student" tag and so you should try and make your property as widely appealing as possible in order to avoid your property being on the cull due to the pink and green striped wallpaper you fashioned during the summer break.
The best advice is to follow the usual guidelines of neutral decoration, minimise junk, investing in high demand student areas and to fully promote your property by using all advertising means possible.
For information on the void period during the summer break i.e. between the academic timetables, view the chapter on "Finding the right property".
Should I credit-check the student tenants?
Lets assume everything's going well and you find yourself inundated with potential student tenants wanting to rent your property (!). You will naturally ask yourself whether they can keep up with rent payments and you're not going to end up tenantless halfway through the academic year.
You can check the credit of your tenant like a lender credit-checks a borrower. This costs between £17.50-£94.00 depending on what service you require. But, we're going to have face some facts here. Firstly, it is very likely that university student(s) will have much work history, so credit referencing them isn't going to amount to much use and will be a waste of time and money.
Also, it is well documented that students are experiencing some tough times these days and with the ongoing debate of additional tuition fees, the amount of money they or their parents will invest, there are not many viable options to guarantee rent payment.
The best option is to you get the student tenants to sign one tenancy agreement, whereby if one of the student tenant leaves, then they will all be responsible for the full payment of the shortfall or finding a new flatmate. You may also wish to ensure they provide a guarantor, someone who will be responsible for their deposit and potential dilapidations to your property.
The relationship between landlord and tenant
We've all heard of those horror stories where the student tenants have had an all night party, trashed the place and done some serious fire-damage to the property due to their inability to make toast. Then on the flipside, we've also been exposed to stories presented by student tenants on how a crazed landlord has refused to fix the front door despite several burglaries within a week!
These extreme cases should be taken with caution and the point is to not assume too much. Your tenant is not your friend, but nor is he or she out to make life hell for you! Well, here's to hoping not.
Remember that you are in business with each other and that is the only reason why you know each other. For the relationship to last, the following simple contract needs to hold – you are supplying a safe property for the tenant to live in and the tenant is paying you the rent on time.
University accredited lettings
You should consider using the university lettings system if you are finding it tough to channel your energies into finding the tenant. They will have better access to the students and with full respect to other landlords, they will be trusted a lot more. However, it is often tough in getting your property registered with the university lettings system, as there is much demand to be on it. They also have strict controls and measures on what type of property they want, so this will make it tougher.
The Bradford and Bingley VarsityLets Scheme
In April 2004, Bradford & Bingley launched a new product in the student letting service, assisting would-be landlords in their quest to penetrate this healthy market.
The new VarsityLets Scheme is to be a specialist lettings agency with view to operating a management service to look after all the needs of a landlord. It claims that rental yields are on average 2% higher than the usual letting market and offers a unique rent guarantee insurance product.
Part of the product, Varsity SecureLet covers landlords on legal expenses and provides free rent guarantee. It will cover the landlord for 365 days a year and will retrieve unpaid rent.
Checklist:
Ask around!
You've read this book – great! Now you'll have a good knowledge of how to go about purchasing a student buy-to-let property. However, you should do other important research in that particular student area you intend on investing in. Ask the lettings agents what the demand is like; Speak to the student's union or university accommodation and see what they say; read around the local and university press to see what the latest reports are.
Check property dimensions
With the Housing bill set to affect thousands of student homes, make sure your property is habitable. There's no point in buying a house that states three bedrooms but with one being the size of a cupboard. The best properties are those with lots of rooms of fairly equal size because nobody wants the box room.

Also, two reception rooms are considerably better than one long reception room as you can convert it to a bedroom and improve yields.

Do your sums

 

 

If the going rate around the area is £50 per week, and you have to charge £65 a week to make any profit, you should ask yourself if it's worth it. Assess your sums both short-term and long-term.

You cannot always be assured of a full 12 months rent, so take that into account.

Find the best buy-to- let mortgage
The best way to do this is speak to a broker. Feel free to cntact my broker on 01708 443334.  Mention my name to get a discount on the fees.
Furnishings
It's good to furnish the place, but remember not to fill your house with junk or old items from a charity shop that could be a potential fire hazard i.e. old cushioning that isn't fire resistant.

The higher the quality of the products, the more desirable, the more you can justifiably charge for rent.

Safety checks
Follow the guidelines as outlined in the legal section and get more in-depth information from you're the local council if you are unsure of anything.
Timing
Students tend to look for their new homes just after the Christmas holidays, so make sure the property you are to buy is let worthy around this period.
[1] Higher Education Funding Council statistics for 2001, www.hefce.ac.uk
[2] See 'The Buy-to-Let Bible' by Ajay Ahuja for more information on these types of lettings.