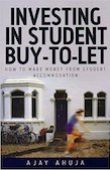 As a student landlord, you have responsibilities and legal issues to adhere to. This chapter will deal with general guidelines and legal aspects that you should be aware of. Like any dealings with tenants, be they student lets or professional lets, landlords face three broad categories – Contractual, Regulatory and All-encompassing[i].
Contractual
This refers to the legal contracts that you must sign and adhere to if you wish to do business. You are expected to fulfil your legal obligations as outlined by the terms of the contract. Breach of terms could ultimately result in legal proceedings against you. As a landlord, you will enter into legal contracts with your lender, the tenant, the insurers and possibly, the lettings agents.
Prior to entering into a contract with a lender the lender has to know about you. The lender asks you a number of questions and expects the truth. If it found that you have misled the lender by any of your answers to their questions, they can demand repayment of the loan in full plus all recovery costs. They can also inform the police and charge you with obtaining finance by deception. This is fraud and you can go to prison.
Once the lender has established that you are a person worth lending to, the lender insists you sign their contract. The lender sets the terms of the contract. As the lender has lent money to you it is their right to set the terms of the contract. Unless you are borrowing a large sum of money then you can never include any clauses in the contract based on your terms – that's just the way it is. The key terms of the contract are:
Payment – You have to pay the mortgage repayments on the dates the lender dictates. If you fail to do so the lender can repossess the property.
Maintenance – You must keep the property in a good state of repair fit enough to be habitable.
Occupation – You must not leave the property vacant for more than 30 days.
There are several legal documents that are created when you find a suitable tenant:
An inventory
An Assured Shorthold Tenancy Agreement
An eviction order
An Inventory
An inventory is a list of all items that are in the property – it includes descriptions of items, quantities and condition. This list should be signed by both the tenant and the landlord. When the tenant decides to leave the property you can check the list to what is left in the property. If there are any deviations from the list you can charge the tenant to correct the deviation. So, for example, if there were four dining chairs when the tenant moved in and now there are only three, then you can deduct the cost of replacing the dining chair from the tenant's deposit.
If you get an inventory done it will ensure that that the tenant thinks that you care about the place you are letting and the tenant will be less likely to damage the property. If the condition of the carpet is recorded then they are more likely to remove any stains made by them as they fear that you will deduct cleaning costs from their deposit.
Professional Inventory Services can be found in the Yellow Pages or by visiting www.yell.com.
An Assured Shorthold Tenancy (AST)
An Assured Short Hold Tenancy Agreement is the most common. These can be made for a specific period of time, for instance, one academic year, but they are not usually made for a period of less than 6 months.
You should ask the students that are sharing the house to sign a joint tenancy or a separate tenancy. If they sign a joint tenancy then they will all be responsible for each other's debts and damages. If they have their own contract and there are any discrepancies, the argument is between yourself and the individual student and should not involve the other students.
This AST agreement between the landlord and tenant binds both parties to certain duties and obligations. The main features of a tenancy agreement are:
Rent – How much rent to be paid and the frequency of payment.
Duration – An AST is for a minimum of six months and maximum of twelve months.
Running Expenses – It sets out who is liable for the running expenses of the property.
Tenant Obligations –It details the tenant's obligations to the property and the landlord, such as maintenance, not to sublet, informing the landlord of problems in good time, and reporting damage.
Landlord Obligations – It details the landlord's obligations to the property and the tenant, such as privacy and timeliness of repairs.
Both the tenant and the landlord have to sign, with both signatures witnessed by an independent third party.
Visit www.lawpack.co.uk for further information and links to obtain a ready-drafted AST. You can also obtain more information on legal matters and obligations by visiting www.landlordlaw.co.uk, run by specialist solicitor and Lawpack author Tessa Sanderson.
An Eviction Order
If you want evict the student tenant(s) from your house then a legal process must be complied with before they can be evicted. This will include written notice and applying to the Court for a possession order. If you evict the tenants without the following the correct procedures then you will be committing a criminal offence.
It would be advisable to try and get one tenancy agreement, whereby if one student leaves, then they will all be responsible for the full payment of the shortfall or finding a new flatmate.
A landlord must have a 'ground' for eviction and serve the proper notice on the tenant before any court action is started.
A landlord can evict a tenant and serve a Notice of Intention to Seek Possession (Section 8). A landlord can serve this notice and give a minimum of 2 weeks' notice to the tenant for the following main reasons:
The tenant is 14 days in arrears
Repeatedly late rent payment (even if the tenant is not in arrears at the time the notice is served)
Any breach of the AST
Annoyance to neighbours
It is found that the tenant has given false information to obtain the tenancy
A landlord can serve this notice and give a minimum of two months notice to the tenant for the following main reasons:
You wish to reside in the property
Mortgagees wishing to repossess
You can download eviction notices from our download section at www.propertyhotspots.net.
If the tenant doesn't leave then:
File copies of the notices sent to the tenant with the court.Sue for all rent arrears and legal costs and court fees.
Wait for 14 days for the tenant to reply.
If no response is made (which is likely) then a possession order is made giving 14 days notice.
If the tenant doesn't leave then call the police to evict them as they are now in your property unlawfully.
We have to face a reality here though.This procedure will take a long time, give you stress and you can potentially lose up to six months' rent.if you include court fees and solicitors costs and the threat of damage to your property the whole eviction process could cost you in excess of £3,000.If you want the tenant out of your property and they have ignored all your notices then offer to pay them to leave.This option could be cheaper.I would suggest one months' rent being fair.This will pay the deposit for their next property.
Try to initiate an friendly separation.Do not add fuel to an already firey situation by losing your temper and threatening immediate court action.Statistically only 2% of tenants tend to be bad tenants – bad tenants being tenants that have no intention of paying the rent, not tenants that lose their job and cant pay their rent.if a tenant loses there job then they are than likely going to get another job.If they have been relatively good payers of the rent then be patient with them.
In my experience I would say that the 2% statistic is right.The majority of people wish to settle in a home and feel secure.The best way for them to feel secure is to pay their rent on time.
You will have to enter legal contracts with insurance companies to cover you against certain risks. Your insurance will only ever be valid if you have originally told the truth on your proposal form when obtaining the insurance. The main insurances you will take out when investing in property will be:
Buildings Insurance – the insurance you pay to cover the property against fire, vandalism, water damage or weather damage.
Contents Insurance – This is insurance for items such as carpets, furniture and other fittings that you have provided for the property.
Rental Guarantee – This is insurance against your tenant defaulting on the rental payments.
Emergency Assistance – This insurance will cover the costs of any emergency repairs that have to be carried out including all call out charges.
When filling out the form they will ask you about previous claims. If you have any previous claims then reveal them. If you do have to make a claim and you have not told them about a previous claim then they do not have to pay out. It is very easy for them to find out if you have had a claim as they have a central register of all claims paid out.
If you do lie and they catch you out you will find it difficult to get insurance in the future, as you may be put on a blacklist which is accessible to all insurers.
If you do decide to use a letting agent then you have to read their terms and conditions very carefully. Watch for:
Timeliness of Payment – check to see how soon the letting agent has to hand over the money once it has been received by the tenant. I would not accept any period longer than three days.
Get out clauses – if you decide to no longer use the letting agent check to see how easy it is to get out. One agent tried to sue me for all the lost commission he would have earned even though I was now collecting the rent! If you have an idea of using a letting agent at first and then taking over in 6 months then inform the letting agent of this intention. You may be able to strike a deal where you have a realistically priced option to get out of the contract.
Regulatory
I may have rattled on about how to best negotiate business with student tenants, but you should take note of the fact that there are, and rightly should be, stringent measures which will help to protect the student tenant.
Houses in Multiple Occupation (HMO's)
If you live in a shared house, whereby you are not related to the each other, your home is likely to be termed as House in Multiple Occupation or 'HMO'. Because of the extra demands due to sharing a house, HMO's are subject to additional controlling features.
The much talked about Housing Bill, which at the time of writing is in the House of Lords, will go some way to make things a bit more rigorous for a would-be landlord. New measures will make sure that Landlords become registered and is intended to clean up the market by weeding out the rogue landlords who are giving some students an unpleasant experience.
As part of the new bill, landlords with properties of three or more storeys and five or more people will have to be properly licensed. Despite this being welcomed by student union representatives throughout the country, it is fair to say that they are disappointed that the definition of an HMO does not include or cover all student properties. The National Union of Students (NUS) claims that
" More than half of students living in privately rented accommodation do not live in properties of three or more storeys and five or more people. This means that hundreds of thousands of students will not be covered by the new legislation and will remain at risk"
The key points of managing a HMO, which haven't been addressed elsewhere:
Property management – the repair, maintenance, cleanliness for the well being of the tenants and to clear any fire hazards before the students move in. A means of water supply and drainage and other hygiene factors e.g. provision of waste disposal arrangements. Also, name of the landlord or the manager should be clearly displayed within the house.
Fire Safety - Using all means necessary to reduce the risk of a fire hazard. Fitting fire detectors and smoke alarms is a good move. You may also wish to provide a fire extinguisher too, but should contact the university welfare office or the council before doing so on advice on what types are best. The council have a duty in helping you to accommodate fire safety, so you should get into contact with them for further advice. For more issues on fire safety, see below.
Furniture – This is mainly to do with getting a written inventory and fire safety issues. Information on this has been provided in this section.
Provision of amenities – cookers, sinks, washbasins, toilets. The Government is to publish a leaflet on a national code of guidance, which will be available at some point in 2004/2005.
Size of bedrooms - The standard is an old one and is unlikely to be of much concern today; a room of only 70 sq ft, for example, is deemed large enough for one adult occupant and 110 sq ft for two.
Gas and electrical safety – these are looked at below
Registration scheme – as outlined earlier
Other points that are considered and should not be treated lightly by potential landlords are nuisances (e.g. damp), Vermin (rats, mice, cockroaches etc.)
To seek further detailed information, please access the NUS website at www.nusonline.co.uk.
Besides the HMO regulations, there are 3 main regulations governing the general renting of properties:
Gas Safety
Electrical Safety
Fire Resistance
Gas Safety
By law, you will be regulated and responsible for making sure gas appliances (boilers, cookers, heaters) and pipe work are maintained in good order. You are required to carry out annual gas safety inspections using a CORGI registered engineer. The engineer will inspect:
The central heating boiler
Oven and hob
Gas fire
Gas meters
It cannot be stated clearer that such a simple task to ensure safety for your tenants is in the best interests of everyone.
Electrical Safety
All electrical appliances should be tested and have either a label on each piece of equipment or a certificate listing all the appliances that have been tested. Many landlords may hold a NICEIC certificate, which proves that the property has had an electrical check within the last five years. Although this is recommended, it is not a legal requirement.
So its quite obvious - keep the number of electrical items to a minimum! The fewer electrical items you supply the less there is likely to go wrong. This limits the reasons why your tenant can ring you up telling you about a problem. You don't need your tenant ringing you up at 6am complaining about the kettle not working. An inspection will cover you from being sued if any electrical appliance were to harm your tenants or their guests
Fire Resistance
Fire issues should be one of the most important considerations for you as a landlord. The law is strict in this area and the old adage of it's better to be safe than sorry certainly applies here. You must install smoke alarms and only use fire-retardant mattresses and furniture.
Furnishings
 In January 1997, the final phase of the Furniture and Furnishings (Fire Safety) Regulations 1988 came into force. All upholstered furniture supplied as part of the tenancy must comply with the fire and safety regulations. Broadly, this means that both coverings and fillings should pass ignition resistance tests. Telling whether or not items of furniture meet the standards is not easy but check any labels in the cushioning. It is now standard that any furniture purchased after 1990 will automatically comply with all fire regulations. Carpets, curtains and duvets are not covered by the regulations
All-encompassing
You will also be legally bound by the normal all-encompassing laws of the land. This includes:
The law of tort- negligence and personal injury
Criminal law
We are all bound by the above two laws even if you are not a property investor.
The law of tort
Even though you may have all the safety records in place you still owe a duty of care to your tenant and anyone that enters your property. If it can be shown that you were negligent in any way then you could be sued and ordered to pay damages.
As a landlord you are liable for any damages if all of these conditions are satisfied:
i) Your tenant or anyone entering your investment property were to suffers an injury and
ii) You owed a duty of care to the person entering your investment property who suffered the personal injury and
iii) You breached that duty of care.
So for example if Zak, the landlord, failed to fix the cooker socket in the kitchen and the tenant's guest, Liz, suffered an electric shock burn then Zak would be liable to compensate Liz for her injury.
This is because:
i) Liz suffered injury
ii) Zak owed a duty of care as it is realistically expected that a tenant would invite a guest into their property
iii) Zak breached that duty of care as he did not fix the socket when asked to by the tenant.
Criminal Law
Threatening your tenant or being violent to your tenant because he hasn't paid you any rent is no justification for your behaviour in the eyes of the law and is deemed a criminal offence.
If the landlord interferes with the tenants peace or comfort with unannounced visits, does not fulfil his or her responsibilities for basic repairs, disconnects utility supplies etc. then this may amount to harassment - which is also a criminal offence.
Also, you should give prior warning of at least 24 hours to the tenant if you wish to enter the property to carry out legitimate maintenance checks and repairs.
Investing in property can sometimes challenge your ability to remain calm and situations can become quite heated. You have to be a responsible person and realise that if you want to take investing in property seriously then you have to act lawfully in every way.
TV licences
Just so it's clear, if the tenants bring a television into the rented property, then they are wholly responsible for paying the TV license. However, if you supply a TV with the property, then you share responsibility with the tenant for ensuring that there is a TV license. So in order to avoid a hefty fine, either:
Don't provide a television
Do provide one and on the lease agreement, make it clear that the tenant is responsible for the TV license.
Buy an annual license and add the cost to the rent or service charges, but make sure it is clear to them that they are aware of this.
I usually opt for the second choice and let them sort out the TV license.
The house requires only one licence as long as the tenants have a joint tenancy agreement. However, if the tenants have separate agreements with you, then they will need separate licences.
Deposits and holdings
You should ask for a deposit as security in case any of your tenants damage the property or furnishings. It can also be used to cover unpaid bills, rent or missing items. Most landlords will ask for a sum equivalent to four weeks' or a calendar month's rent but the maximum a landlord can charge by law is two months of the annual rent payable. The deposit should be refunded normally within 28 days after the student has left the property, assuming there are no problems with the condition of the house or its furnishings. This is another good reason why it's good to get complete a full inventory prior to the signing of any agreement. Remember as part of the AST agreement, the tenant must take due care of the property and its furnishings and this should give you confidence when exchanging documents.
As with most deposits, the tenant may lose any holding deposit  (forming part of the normal deposit) and may not be refunded if they decide to withdraw before the contract begins.
Tenancy Deposit Scheme (TDS)
The Government has in principle agreed to put forward a tenancy deposit scheme (TDS) to be brought in to ensure that students and landlords are properly protected. Students pay the money they owe for any necessary reparations and landlords release deposit money that students paid when they moved in.
The scheme looks set to act to protect deposits through the housing bill. When and if it comes into effect is another matter.
Retainers
If you are to hold the property for the student tenants until the beginning of the academic year, then a retainer could form part of the contract. This means that the prospective tenant is assured that the property will not be leased out to anyone prior to his or her arrival and you may wish to use the time to redecorate or undertake maintenance work. The normal retainer figure is half-rent charged as per normal for the duration.
A retainer counts as rent, and confers certain rights and obligations. If you charge a summer retainer, the property must be habitable and it is important to stress that you may not let the rooms to other people, as it is illegal to charge rent twice. It is normal to allow students certain rights to the property if a retainer has been paid e.g. occasional use (by prior arrangement), storage facilities.
[i] Please review Lawpacks Residential Lettings Guide for more in-depth discussion.